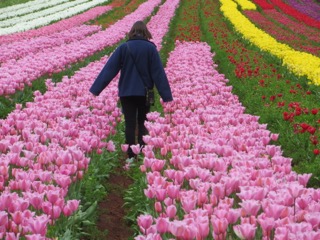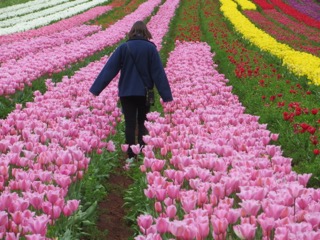 Being diagnosed with a lifelong condition is a source of grief for many people. But diagnosis was actually a relief for me—and my grief sometimes gets worse when I get better, not just when I get sicker. 
I am unfortunate enough to be living with an absolute monster of an autoimmune disease commonly known as lupus. For eight years before I was given the label 'lupus', I lived in an Alice-in-Wonderland type of upside-down world where my body would try to kill healthy organs for no sensible reason.
I thought I was going mental. (Perhaps the doctors thought so too.) My life was a whirlwind of random symptoms and possible diagnoses, swirling round in my head with nowhere safe to land.
Then I got diagnosed with lupus. Suddenly, the whirlwind pieces dropped into place. The madness made sense. The random elements lined themselves up into patterns. I went from feeling like a crazy person to finally understanding what was happening in my body. 
Then I got diagnosed with lupus. Suddenly, the whirlwind pieces dropped into place.
For some people living with chronic illness, especially autoimmune disease, diagnosis is more than a blood test or single doctor's appointment. It's years of testing and retesting, research, second and third and fourth opinions, eliminating various possibilities one by one. Getting that label can be an almighty relief, even a cause for celebration, like finding a long-lost treasure.
No, I did not grieve when I received the lupus label. But this year, when I got so sick I was unable to work for six months, I grieved hard. And now that I am back at work, I am grieving all the more.
Who said grief made sense? 
Who said grief made sense?
Grief typically surfaces when we have lost something. In 2022, I lost six months' worth of work, friendships, retreats, self-care, ministry, conversations and simple healthy living. That grief makes perfect sense.
So why am I sad now that I am back at work? Shouldn't I be turning cartwheels?
Here's my theory so far. Returning to some kind of 'normality' for those of us living with chronic illness can be a shock to the system. I was sick for six months and I acclimated to that. I was accustomed to living in lockdown, keeping silent, keeping my distance. Suddenly I could go back to work and it felt good, but…weird. 'Is this OK? Am I really well enough to be here? I could get sick again any second!'
For those of us living with chronic illness, returning to 'normality' can be a shock to the system.
That's part of the grief too: it could happen again at any time, and if it does, it will render me powerless as it did this year. Not a nice thought.
Relief can also give way to grief. I have spent the better part of 2022 feeling anxious about what was going on, worrying I would never get better, and getting pretty angry about it all. Perhaps grief is a reaction to the fear and anger finally having a place to settle.
Finally, I just feel sad about having this body. I am sad that my body tries its best but still gets a lot of stuff wrong. I feel sad that when my body tries to communicate with me, it speaks a language I do not understand. I am sad my body is unwell and I am powerless to help it. 
I just feel sad about having this body.
'Mind over matter', a friend quipped to me this week. And I felt sad. Because for some of us, no amount of willpower or hope or positive thinking is going to make a scrap of difference. Our bodies have the ability to pull the rug out from under our feet. That brutal reality is terrifying—but I would rather live in that reality than pretend I have any semblance of control over lupus.
Perhaps that is what the experts call, 'acceptance'.
Do you, or does someone you know, live with chronic illness? Do you experience grief around it, even when you feel better? How do you make peace with that grief? Share your story. Let's have a countercultural conversation.