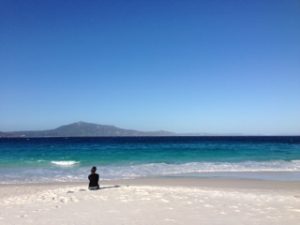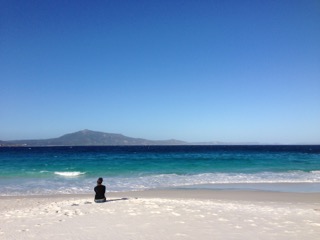 Here's the story behind the writing of "Lamentations Song."
One favourite Old Testament passage for me is from the third chapter of the book of Lamentations. I believe it is quite a well-known passage but I will quote it here anyway:
God's loyal love couldn't have run out,
his merciful love couldn't have dried up.
They're created new every morning.
How great your faithfulness!
I'm sticking with God (I say it over and over).
He's all I've got left.
God proves to be good to the man who passionately waits,
to the woman who diligently seeks.
It's a good thing to quietly hope,
quietly hope for help from God.
It's a good thing when you're young
to stick it out through the hard times.
When life is heavy and hard to take,
go off by yourself. Enter the silence.
Bow in prayer. Don't ask questions:
Wait for hope to appear.
Don't run from trouble. Take it full-face.
The "worst" is never the worst.
Why? Because the Master won't ever
walk out and fail to return.
If he works severely, he also works tenderly.
His stockpiles of loyal love are immense.
Lam 3:22-32 (MSG)
This passage is popular for its references to God's great faithfulness and mercies renewed every morning. These are wonderful themes deserving of lots of attention. Referenced less often are the themes of lament and facing suffering, but I think they are just as valuable. I love the idea of sticking it out through hard times and not running from trouble. Often the only thing we want to do when lamentations hits us is to run, to hide, to escape from suffering. This scripture exhorts us to do precisely the opposite.
The other thing I love about this passage is the formula for prayer contained within its verses. Normally I would suggest that healing is not formulaic. But here in Lamentations, the author provides a formula about how to seek healing when we are in that place of lament.
Go off by yourself. While healing normally calls for some level of social support, this scripture highlights the importance of space away from people, away from the temptation to "fake it." This gives us the opportunity for us to be alone and honest with God.
Enter the silence. When we are lamenting, we usually have plenty to say. Here we see that silence has a role to play in our lament. Sometimes words cannot convey the depths of our heartache or they would just get in the way. Space and silence make way for other possibilities.
Bow in prayer. Bowing for me symbolises utter surrender. How powerful it could be for us to bow before God in the midst of devastating lament. There is something about bowing that says to God, "Yet not my will, but Yours be done."
Don't ask questions. This goes against a natural compulsion to seek answers when we are hurting. There are many questions that the experience of lament can raise, including questions of faith and meaning. In this scripture, it seems that questions are not the thing. Perhaps questions would get in the way of what comes next.
Wait for hope to appear. We have a demanding culture. We demand to have what we want and now. We have many questions and we want answers now. In our busy world, waiting is quite a counter-cultural idea. And yet, waiting is God's way through. When we ask questions, we dwell on the pain of loss and the anxiety of the unknown. Waiting, alone and without questions, leaves room for hope to enter.
How wonderful to wait on hope. How liberating to know that hope is on its way. What a relief to depend on God rather than our own striving. I hope we will continue to practice this rare and wonderful art form of waiting on God.
When I first began working on Lamentations Song, I loved this idea of waiting for hope so much that I made it the central motif of the song. As you listen to the song, see if you can spot the other moments of scripture nestled within the lyrics.
This song has been a prayer for me for a number of years and it still is today. I hope that it may become your prayer also.