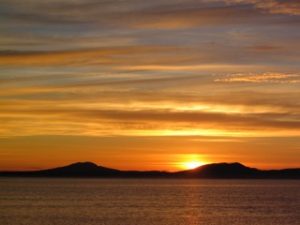 I have written more than I originally intended about this topic. It has opened up more aspects of Christian living, and of human living, than I first realised. It has been intriguing unpacking these ideas further.
I have also received some interesting comments from readers in response to this series on lamentations. One reader noted that lament is sometimes necessary in order to drink of the living water of Christ. Lament can also open our hearts to a thirst and passion for Christ that we otherwise would not have experienced.
Another reader expressed their appreciation for the reminder on repentance. I know it seems basic, but I think it is so important to stay connected to that fundamental principle of forgiveness of sins. Without that simple but profound piece of wisdom, we might find ourselves forever trapped in lament over our sin.
There can be joy too, when the pull of the past is not so powerful, and when the weight of lament is relieved by joy. Like a breath of fresh air, we can feel renewed after a time of lament and even closer to God. We may feel a deep sense of gratitude for God's salvation work and power in our lives.
We have discussed the nature of shared lament and the gift of the Church in supporting one another. At times it may be appropriate to reach out to others in our lament (providing we feel safe enough to do so). This can foster a sense of connectedness which can be crucial during a time of lonely lamentation.
Sometimes people tell me that they do not reach out to others for fear of burdening them. We often feel guilty for airing our dirty laundry; we may believe that we are alone in our plight or that others have enough problems of their own already.
However, speaking for myself, I have felt privileged when others share their stories with me. It gives me the opportunity to listen and support them; in short, it allows me to use the gifts God has given me to be a true sister to them in Christ. If people never shared with me, I would be denied this privilege and the opportunity to connect with them in a deeper way.
Besides, I believe that we can take turns looking out for each other in the body of Christ. That way we can truly rejoice with those who rejoice, and weep with those who weep.
At the risk of sounding mushy, I love the idea of us being brothers and sisters in Christ to each other. I also thoroughly believe in the principle of us serving one another. It reminds me of the old Servant Song:
"Brother, let me be your servant
Let me be as Christ to you
Pray that I might have the grace
To let you be my servant too."1
I hope this series has been as thought-provoking for you as it has been for me. May God lead us into and through times of lament with grace sufficient to cover us all.
Next time, we go behind-the-scenes on Lamentations Song.
1© 1977 Scripture in Song/Maranatha!Music Administered by: CopyCare P.O. Box 77, Hailsham BN27 3EF UK music@copycare.com. All Rights Reserved.