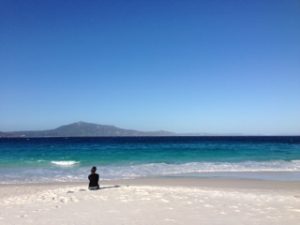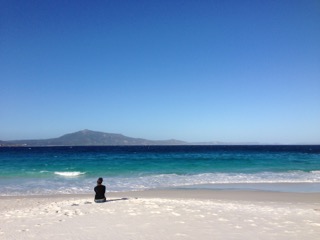 "The internal voice that tells me to hustle can find a to-do list in my living room as easily as it can in an office. . . The hustle will never make you feel the way you want to feel. In that way, it's a drug, and I fall for the initial rush every time: if I push enough, I will feel whole. I will feel proud, I will feel happy. What I feel, though, is exhausted and resentful, but with well-organised closets."*

– Shauna Niequist, Present Over Perfect
I've just finished Shauna's book and man, did I enjoy it. I can relate to a whole bunch of stuff that Shauna wrote about it, not the least being perfectionism. Shauna describes the power of perfectionism luring us like a drug, urging us ever onward toward business, activity and emotional numbing. She knows what she's talking about.
I've just returned from a glorious overseas holiday, feeling refreshed and hoping to stay that way for as long as possible. But already I can feel the call of the perfectionism or, as Shauna calls it, the Hustle.
Everyone's version of Hustle is different. My particular version of Hustle, the Perfectionist, tells me everything that hasn't been done. It recites a list of household chores, admin tasks, shopping items, blog ideas, social get-togethers and anything else that can be itemised on my mental "list". It tells me the washing up is more important than working on my next song.
If I ignore the Perfectionist, it doesn't go away. In fact, the voice of the Perfectionist becomes even more urgent. This is the addictive part for me: "If I'll just do the things the Perfectionist is telling me to do, then I'll be happy. I'll be content. The work will be done and I can relax."
You and I know this is not true. The Perfectionist never shuts up for good. The hustle never really goes away. It's always there, perpetually inviting us into pressure-filled lives, like a treadmill that is ever-increasing its speed without us being able to keep up.
There may come a time when we simply cannot keep up anymore. Perhaps we will come tumbling off the treadmill. Perhaps we will recognise the signs of not being able to keep up: legs burning, sweat dripping, gasping for air. Perhaps we will jump off the treadmill before it kills us.
I keep chasing after perfection because I think it will bring me the fulfillment I am looking for. But as Shauna so eloquently points out, I don't end up feeling satisfied, I just feel stressed, with a spotless kitchen.
I recently jumped off the treadmill by going on holiday. Now that I'm back, I'm aware of the temptation to jump back on and start running. But I really don't want to do that. So here goes: I'm going to get back into my work without getting back on the treadmill. It's countercultural, I know. I don't even know if such a thing is possible, but I'm going to try.
I'm going to pace myself. I'm going to start and finish my days with worship and gratitude. I'm going to prioritise music and writing over the washing up. I'm going to recognise the lie of the Perfectionist and realise that a clean kitchen or completed to-do list will not bring me peace. Accepting myself for who I am – God's beloved child – is the path to peace.
*Niequist, S 2016, Present over perfect: leaving behind frantic for a simpler, more soulful way of living, Zondervan, Grand Rapids, MI, USA.