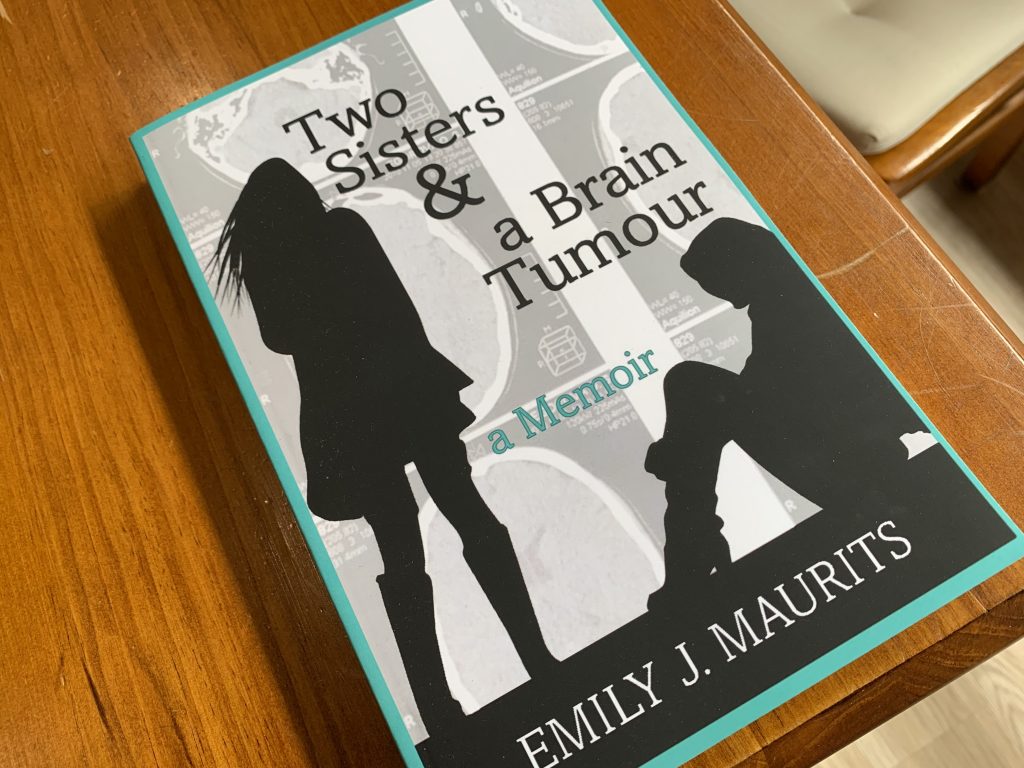 I recently read Two Sisters and a Brain Tumour, a memoir by author friend Emily J. Maurits. Even though it was about a brain tumour, I enjoyed reading it—probably because it was about so much more than that.
The author takes us on a journey through her relationship with her sister, with all the tension and playfulness of adolescence and young adulthood. The struggles are genuine, but so is the banter, and I had several laugh-out-loud moments. The author's sense of humour appeals to me, especially the sarcasm! 
The struggles are genuine, but so is the banter.
The pain of suffering is real in this story. The author doesn't hold back. The ugliness of a brain tumour, the shock of receiving bad news about a loved one, the surreality of sitting in a university class while her sister is getting brain surgery—it's all there. The powerlessness of bearing witness to that pain is palpable, and it comes through in the writing.
There are moments of beauty too. One such moment that stood out to me was during one of the author's many hospital visits to see her sister, when she heard the sound of singing coming from the room next door. She ventured out to find the source, and discovered a handful of people singing hymns together. She joined these perfect strangers—and found the respite she didn't know she needed.
Throughout the memoir, the author points us consistently toward Jesus: the prayers, the doubts, the tears. There are times when there are no words, when church is too hard, and when she has to lean on the kindness of others. She shares an insight about letting others help her, something which she personally struggles to do:
'In times of hardship, reach out your hands. People are kinder than you believe.'
'In times of hardship, reach out your hands.'
Her reflection resonated with me. A born perfectionist, I can struggle to lean on other people, even when my need is genuine and great. I weirdly believe I should be able to cope with everything and anything hurled in my direction. It sounds heroic, but it's actually soul-crushing. Because I don't care how strong or resilient you are: all of us need help at some point.
God knows that. That's why he put us in a family.
The author underlines this point, showing how her brave forays into coping are met with exhaustion in herself and kindness from others. She cries out to Jesus again and again, and Jesus meets her, although not always in expected ways. 
Jesus meets her, although not always in expected ways.
Ultimately, this is a testimony not only of survival but of faith, sisterly relationships and various forms of provision. It wrestles with hope, even at the end, and I was reminded of the frailty of the human condition. It inspired me, not just in terms of coping with illness, but in hanging on to Jesus—even if only by my fingernails—and reaching out for help more often.
I recommend Two Sisters and a Brain Tumour, both as an enjoyable story and a book of encouragement. 
Have you ever borne witness to someone else's suffering? What was that like for you? How can you reach out to God, and to others, in times of difficulty? Share your story. Let's have a countercultural conversation.