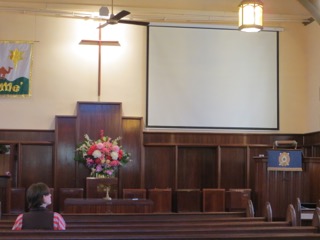 When I'm sick, I feel useless. I question my worth, and what's worse, others question it too. I have to be a 'contributing' member of society, proving my value through usefulness and productivity. Even in church, there's pressure to 'contribute' in some shape or form.
So how do I contribute when I'm down for the count? Where does my worth lie? And what if—worst-case scenario time—I never get better, stuck in the land of non-contributing? 
Where does my worth lie?
For the past five months, I have been out of action with illness to the point of disability. I have never felt such resonance with my disabled and chronically ill friends: living virtually housebound, unable to work, unable to do the things I love like singing and playing keyboard. Often I have been unable to attend church, though I have participated online.
I usually play keyboard and sing for my church, but with that being out-of-bounds, I decided to look for alternate ways to serve my church community while sick. And I discovered there were alternatives. I helped with church band rostering, song selections and behind-the-scenes support. I made myself available for prayer, gift-giving and cake-sharing.
People gave me positive feedback about the support I provided, and it felt good to know I was still valued. But my value does not lie in being a support or admin person, any more than it lies in singing and playing keyboard on Sundays. It lies in being God's child, hence in being part of his family. 
My value lies in being God's child.
I am still part of the church, whether I attend online or in-person, whether I play in the band or support people during the week, whether I do admin or feel so unwell I can only focus on staying alive for today. No amount of sickness can change the fact I am a member of God's family.
And even if I can't *do* stuff—even if my contributions look decidedly one-sided for a while, because I can't get out or even talk—my presence in God's family is still important. I am part of the whole, and I matter, just as even the smallest part of my body would be missed if absent.
I'm still serving. It just looks different. Sometimes people will understand that, but some won't. That's OK. I know my worth, and so does God. And my relationship with him is more valuable than anything I could ever *do* for him. 
My relationship with him is more valuable than anything I could ever *do* for him.
I hope you never question your worth, even if you are taken out by illness or disability. I hope no one else questions your worth. But if it does happen, take heart in remembering you are God's child and a much-loved part of his family. Whether sick or well, we need you. We need your presence, and even your absence. In sickness and in health, you belong to Christ—and to us.
Have you ever been unable to serve in church because of illness? How did you navigate that period of your life? Did you find alternate ways to serve, or did you simply focus on staying alive? How do you keep a firm grip on your value in the face of feeling useless? Share your story. Let's have a countercultural conversation.