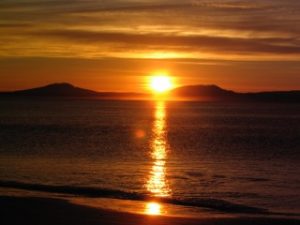 Last weekend it was Father's Day here in Australia. And boy, you could tell.
The supermarkets were filled with cards in every conceivable shade of blue and grey. (I mean, why?) Everywhere you looked, families were sitting down to lunch together. You couldn't get a seat in a café unless you had made a prior reservation.
Father's Day is a difficult day for many of us. And not just because all the cafes are full.
Some people have lost their fathers, either to death or to other causes. Some never knew their fathers. Some have less-than-ideal dads or strained family relationships. This makes family celebrations stressful at best, heart-breaking at worst.
For those of us who are childless, Father's Day can trigger a different kind of grief. The kind where you wanted to be a father. The kind that reminds you of lost hopes and dreams. The kind that kicks your grief up to a whole new level.
Father's Day can trigger a different kind of grief.
But there is good news. There is redemptive power in a loving relationship with our heavenly Father.
God promised that for those who believed in Jesus, they could become his children (John 1:12). That makes God our Father. And there are many bible references that show how he loves us like a good Father (not a bad one, for those who did not have good dads).
In John 14:21 in The Message bible, Jesus says this about his Father:
'The person who knows my commandments and keeps them, that's who loves me. And the person who loves me will be loved by my Father, and I will love him and make myself plain to him.'
'The person who loves me will be loved by my Father.'
Luke 12:26-28 highlights God's provision and care for us:
'Walk into the fields and look at the wildflowers. They don't fuss with their appearance – but have you ever seen colour and design quite like it? The ten best-dressed men and women in the country look shabby alongside them. If God gives such attention to the wildflowers, most of them never even seen, don't you think he'll attend to you, take pride in you, do his best for you?' (MSG)
James 1:5-6a articulates the helpful nature of God:
'If you don't know what you're doing, pray to the Father. He loves to help. You'll get his help, and won't be condescended to when you ask for it. Ask boldly, believingly, without a second thought.' (MSG)
'Pray to the Father. He loves to help.'
Finally, this one from 1 Peter 5:6-7 in the Amplified bible is an absolute cracker:
'Therefore humble yourselves under the mighty hand of God [set aside self-righteous pride], so that he may exalt you [to a place of honour in his service] at the appropriate time, casting all your cares [all your anxieties, all your worries, and all your concerns, once and for all] on him, for he cares about you [with deepest affection, and watches over you very carefully].'
God loves us. For anyone who loves Jesus, God makes them his children. He attends to our needs willingly, happily, not resentfully or with long-suffering sighs. He takes pride in us, like a good Father. And he watches over us with great care and affection.
He watches over us with great care and affection.
No matter what your experience was of an earthly father – no matter what hopes you had for your own fathering journey – no matter what kind of Father's Day you just had – I pray you will know the great vastness of the Father's love for you.
How do you experience Father's Day? Do you know how much our heavenly Father loves you? Share your story. Let's have a countercultural conversation.