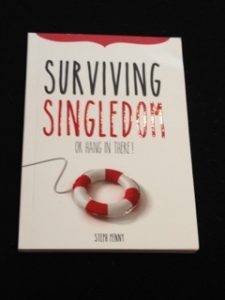 I was asked recently, "What inspired you to write a book about your singleness experience?" In my somewhat descriptive answer I told of how God used a shopping trip to spark the beginning of my writing journey. Today I will share part of that story with you.
Come back with me to a time 7 years ago. I was 29, single and not very happy about it. I was praying regularly for a husband but had seen not a hint of his arrival. (Little did I know I would soon meet him.) I felt it was high time I sought out some resources for myself as a Christian single.
So I went shopping. I went to a Christian bookstore and scoured their shelves, seeking something to inform and support me in my singleness. Unfortunately I found nothing that day. I am relieved to know these days there are more books emerging for singles, however 7 years ago I found not a single book. Pardon the pun.
In my searching high and low that day I found plenty of resources for teenagers, especially on the topic of Christian dating. I also found lots of books on the subject of marriage, and naturally many books detailing healthy approaches to parenting. I believe these are good and necessary demographics for the church to target.
But what about singles? There are many in the church who do not fit the profile of teenaged or married: singles, divorcees, widows and those in long-term relationships. While I believe that the church should be devoting time and energy in ministering to families who, after all, usually comprise the majority of church attendees, no-one should feel excluded as a result.
Providing resources or programs only for those who are married or attend church with their family can unwittingly send the message to singles that they don't belong. Singles may infer that they are in the minority and therefore not important. We need to show the whole congregation that they are worthy of our attention, regardless of their marital status.
I left the bookshop that day feeling more than despondent. I remember sitting in the car afterwards and complaining to God about it. I was frustrated. I felt that the lack of resources for singles was unfair, and I told God so. I told Him I wanted Him to do something about it.
"Inspire the Christian writers to write," I pleaded to God, "so that single people will have something to turn to when they are struggling." I sat back, almost panting at this point, and awaited God's reply. But it was not forthcoming. In the ensuing silence, I realised there was nothing stopping me from becoming one of those writers.
I believe God deliberately allowed frustration into my life in order to birth an idea and a passion to write Surviving Singledom. It's funny how God works sometimes. We ask Him to remove obstacles and difficulties from our lives, but at times God wants to leave them there a little longer in order to produce something beautiful and unexpected. He did that with me.
For more about the story behind Surviving Singledom, buy my book online at www.stephpenny.com.au or come to my book launch on Thur 24th Nov, 7pm, at Gymea Baptist Church. Click here for details.