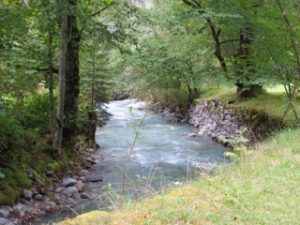 Three years ago I contracted salmonella poisoning in Europe. Exotic, right? I was hounded by relentless nausea for the first three days, accompanied by chills and other joys not appropriate for public consumption. Even though I started to get better after a few days, it is fair to say that I was not myself for a prolonged period of time after that.
Prolonged illness is difficult to live with. It changed me. It affected my relationships and my mental health. I became anxious around food and around mealtimes. My heart raced at the thought of eating out. I feared the sudden onset of acute nausea and it started taking over my life.
I was exhausted all the time. So profound was the impact of this illness that I began to feel, even several months later, that I was never going to get better. I grieved for the person I used to be and the future life I wanted. I became worried that my life was pretty much over.
One day, in desperation to be freed from this physical and mental prison, I decided to reach out to God. I sat down on the couch and told God how I was feeling, how I was still unwell, and how I was depressed and panicked about it all at the same time. I told him that my life was beginning to collapse around me.
As I prayed, it seemed that my words turned into lyrics. (This sometimes happens to me, and I have to stop praying to write down a new song.) The outpourings of my heart seemed to take on a musical form. Several minutes later, "Haven" was written.
It is a song of vulnerability and I invite you to share in this with me. If you are suffering, depressed, anxious, unwell, exhausted, foggy in the brain, fading away, collapsing or in need of God in any shape or form, this song is for you.
"Haven" ends with hope. It recognizes that God can be a place of safety for us, a retreat from a busy and broken world. I took inspiration from Psalm 62 in the writing of this song. Check out the Message version:
God, the one and only – I'll wait as long as he says.
Everything I hope for comes from him, so why not?
He's solid rock under my feet, breathing room for my soul,
An impregnable castle; I'm set for life.
My help and glory are in God – granite-strength and safe-harbour God –
So trust him absolutely, people;
Lay your lives on the line for him.
God is a safe place to be. (Ps 62:5-8, MSG.)
While travelling in Europe and particularly in Switzerland, I was privileged to witness much of God's beauty and presence in creation. I saw stunning fields of green, glacial streams of piercing blue, mountains tall and green and snow-topped, roaming animals and magical sunsets.
Somehow, even in the throes of food poisoning, it all reminded me of God. It still does. It helps me take refuge in God. It melts away my troubles and anxieties. It helps me to breathe again. Such beauty is a gift from God; he uses it to take me "away from it all". He is a haven for me.
I pray that you will be blessed as you listen to this song.