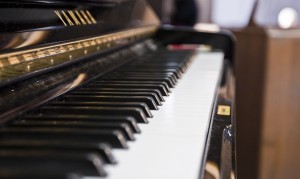 So next week is the annual Hillsong Worship and Creatives Conference (WCC). I've been waiting all year for this. I went to their inaugural WCC last year and when it was over, I immediately paid for my ticket for this years' conference.
I have many reasons for returning to the WCC, some relating to my worship leading role at church, some more personal in nature. I want to share my top five reasons with you.
1. Training
When was the last time you or any of your creative friends or worship team members received training of any kind? If you are anything like me, the answer is, yeah it's been a while. A conference is a fabulous opportunity to ditch all other duties and distractions, focus in on your craft and learn how to do what you do better.
For someone like me who has been in worship ministry for over twenty years, I need that constant challenge to grow my skills.
2. Solidarity
Being a creative is often a frustrating and isolating experience. Being a creative in a church environment can serve to exacerbate these feelings. Connecting with other like-minded creatives can throw this frustration into sharp relief.
I had the most wonderful and memorable conversations with creatives at last years' conference, as well as some beautiful moments of prayer with others. I felt as though I had found my tribe.
3. Experience
Last years' WCC was quite an experience. Every session, from the large room meetings to the intimate workshops, from the all-in worship extravaganzas to the one-on-one prayer times, was powerful and memorable in some way.
There was something about the experience of worshipping with five thousand people, feeling the enthusiasm in the room, hearing the music booming from the massive sound system (as it should), watching the artistic panaromas scrolling across the screens, breathing in the moment; these are the memories that have stayed with me long after the conference has ended.
4. Respite
I am one of those over-responsible types. You know the sort: perfectionistic, high expectations of oneself and everyone else, self-critical, always wanting to do more or work harder or serve better. Add to that the constant demands of serving in ministry, being responsible for other people, being accountable to leadership for worship; not to mention the time and physical energy involved in rehearsal and setup and playing through the service.
With the risk of burnout being so high, we need a chance to simply be ourselves, without expectations, without responsibilities.
5. God
I know it sounds obvious, but a conference is a unique space in which to encounter God. There are opportunities in worship, in conversations, in prayer with others and in quiet reflective moments to receive from God. And what a range of gifts he can give us when we are quiet enough to hear his whisper.
So there you have it: my top five reasons to go to a conference specifically designed for worshippers and creatives. If you have not previously considered going to such a conference, I encourage you to think about it. It can be an informative, challenging, thought-provoking, encouraging, healing and memorable time.
Personally I can't wait.
Do you have a story of going to a memorable conference? What made it so worthwhile? Where else do you get support and inspiration for your creative work? Share your story – let's have a countercultural conversation.