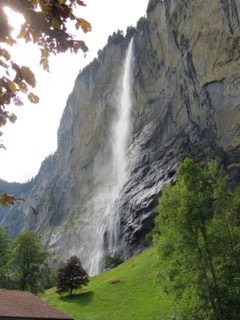 In our last episode, I have been struck down with pain in the Bernese Alps of Switzerland, making it difficult to walk. Read on to find out what happens next…
The pain slowly eased off after about two weeks and I was able to manage most walks—and even stairs. I had another brief bout of gastro, just to keep life from getting dull. Then I had a few good days, praise be to God! I started feeling semi-normal again (whatever that means).
I started to feel semi-normal again (whatever that means).
From there I went on to Austria where I promptly came down with a bad flu. For several days I ventured outdoors for about an hour, looked at the local river (which was beautiful), then headed back to the hotel and collapsed. It took about a week to feel normalish again. During that time I had one more round of gastro for good measure. I was fully recovered in time to fly back to Australia. 
Travelling with illness brought up bittersweet emotions. On the one hand, the holiday was amazing! I thoroughly enjoyed myself: the views were fantastic, the food delicious, the air cleansing, the snow magical, the bells transcendent. The wonder of the holiday far outweighed the illnesses, even the painful flare-up right in the middle. 
The wonder of the holiday far outweighed the illness.
But I wrestled with the anxiety of things going pear-shaped, and the fear of missing out on what was right in front of me. I was disappointed about things I could not do, or only partially do. I was guilty about letting my fellow travellers down. It's hard saying no to invitations to wonderful things because of exhaustion and hear all about it afterwards. 
At the same time, I was aware of how fortunate I was to be travelling at all. I know many people with enduring illness and disability and a good many of them are housebound and bedbound. Travelling is the height of luxury and I am grateful. But I was burdened with an odd sense of survivor guilt: 'I get to do this while others will never travel again.' 
How did I 'survive'? I did a little bit, hour by hour, day by day. I was honest about how much I could do, and I declined what was too difficult or when I was out of spoons. When unsure, I would try a little, rest, then try a little more. Most of the time this approach was successful. The rest of the time I parked myself on a bench and soaked in the views. Which were still amazing. Even on my worst day, I was profoundly grateful to be there. 
Even on my worst day, I was profoundly grateful to be there.
Would I do it again? Absolutely. My illness is highly unpredictable; who knows if I will have my mobility taken away from me next year or next week. So I intend to make the most of it while I still can. And when I cannot travel anymore, I will grieve deeply and forever miss the wonder of Europe. 
Illness sucks, wherever in the world you happen to be. Might as well make the most of it. Coz the views are still amazing.
Have you been sick while travelling? How did you survive? If you live with chronic illness, do you intend to travel in the future? Share your story. Let's have a countercultural conversation.