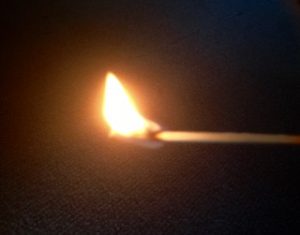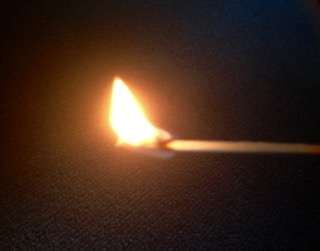 I grew up believing that the Holy Spirit is a gentleman. Church described the Holy Spirit in this way: a loving, respectful, well-mannered person who would never push me beyond my willingness and capacity. It painted a picture of a spiritual being concerned with my consent before He did anything.
When I was a teenager I encountered a different kind of Holy Spirit: an arsonist. This Holy Spirit did not seem overly concerned with my comfort. He set my heart ablaze for Him in an ever-raging inferno. That fire for Him has never gone out. I do not believe anyone, even me, can put out that eternal fire.
This begs an obvious question. Is the Holy Spirit a gentleman or a arsonist?
I understand where the description of "gentleman" has come from. It stems from the belief that we have to ask the Holy Spirit for the things we need and we have to invite Him to draw near to us. This belief implies that the Holy Spirit likes to be asked and invited into our lives and that He responds to us when we call to Him. His healing work is often quite gentlemanly.
The only issue I have with the "gentleman" teaching is that it infers that the Holy Spirit will never force Himself upon us. And that is simply not true.
I have borne witness to the impolite, overtaking, overwhelming power of the Holy Spirit. There are times when He has shown Himself uninvited and He has drawn near unbidden. There are times when the Holy Spirit has asked me to do things that go against my grain, that raise strong objections within me, that make me miserable. There are times when the Holy Spirit has caused me to rise when all I wanted to do was resign.
There are times – recent times – when the Holy Spirit has lit me on fire all over again.
About one month ago, the fire came unexpectedly and it followed a time of profound healing in my life. I felt satisfied in the healing, like the satisfaction of finishing an amazing meal. I thought the healing marked the end of the feast. But then God brought out dessert. He set my hands on fire.
I didn't ask for it. I wasn't seeking it. It crept up on me.
Now, when I play piano, I play with fire. When I type, I type with fire. When I lift my hands to God in worship, two blazing torches of flame arise before Him. The fire in my veins is burning for Him, not for my benefit but for the benefit of others and the glory of His name. He has rekindled my love and passion for Him and He will probably continue to fan those flames for as long as I live.
God is a gentleman. His much-needed healing work in me has been compassionate and complete. God is also an arsonist. He caught me unawares with His fire. Stay awake; you never know what God might do next in your life.
Do you liken God more to the gentleman or the arsonist? Has God ever set your life on fire before?