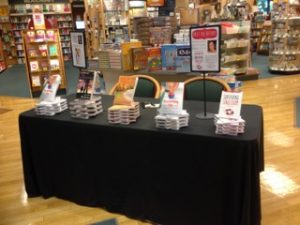 There is only one thing I think about when I'm heading to Koorong to do a book signing.
Wrong.
It isn't signing books. It isn't book sales either. It's not even about what outfit I will wear. (But that is only because I wear the same outfit every time.)
When I spend the day at Koorong, I am focused on ministry. I have no idea what said ministry will entail. It will probably involve conversations. It might include testimonies (I love those). It may possibly consist of a book sale or two.
But the main reason I go there is to minister.
The main reason I go is to minister.
That is why it caught me by surprise the other week when a Koorong customer offered to pray for me.
Yep, God completely ambushed me. I was sitting at the book table, minding my own business, when a boy in a wheelchair manoeuvred over to me and tried to say something. Unfortunately, although I am an excellent listener, I am not very good at deciphering the words of one so disabled.
I looked helplessly at the man next to him, whom I took to be the boys' father. He was a tall man, wearing glasses, with a calm, gentle demeanour about him.
The man said to me, "My son wants to know if you have back pain. Do you have back pain?"
I did not have an answer ready for that one. Usually, when I come to Koorong, I am prepared to answer lots of questions about singledom, childlessness and writing. Never have I been queried about my personal health. Not that it was a problem. It just caught me unprepared.
I decided to jump in.
I decided to jump in. "Yes," I told the boy in the wheelchair.
The father smiled. "My son has a gift of knowledge," he said simply.
Wow, I thought to myself. You never know what beautiful things God will gift to his children.
But the conversation was not over. The father looked at me keenly. "So," he ventured, "Now that God has revealed this condition, would you like us to pray for you to be healed?"
Ok God, I said quietly, obviously you have my number today. I did not know whether God was going to heal me or not. But he had my attention.
I accepted the kind offer of prayer. I figured God was clearly in charge. And I had nothing to lose.
God was clearly in charge.
They both prayed for me, very gently, very respectfully. As they prayed, I felt something shift in my body. I did not know what it meant but I definitely felt different afterwards.
After they had finished praying, the father told me they had come to Koorong because the son had said to him, "Let's go out and see if we can pray for someone." I laughed with them. Such a beautiful moment. I had no words. I was gone. I was in awe of God.
They left with this encouragement: "God has started healing you, and he will finish what he has begun."
"God will finish what he has begun."
God certainly got my attention that day. Whatever happens now with this healing, I have been reminded that God sees me and knows me. Just as he sees and knows each of us.
You never know what will happen in a bookstore.
Has God surprised you recently? How has God reminded you that he sees and knows and loves you? Share your stories – let's have a countercultural conversation.