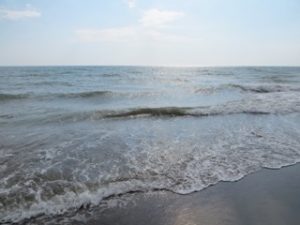 This song is intended to be a call and a challenge to the modern Church. In contrast to many contemporary songs out there, including Christian ones, this song is not about feeling good, safe, secure or even close to God. I don't even know if you can technically call it a praise or worship song. How very countercultural.
There are many songs in Christian circles that use the metaphor of oceans or storms to talk about how God encourages us during such times. Such songs often contain themes of the promises and protection of God. These are wonderful and noble themes. This song, however, does not follow suit.
In creating this song I wanted to write about the experience of sailing unprotected and vulnerable into the storm. I wanted to describe how it feels to go forth, sent by God, without any guarantees.
I think we often want a guarantee from God. We like to get a bargain. "God, I'll tithe as long as You provide financially." "God, I'll serve You as long as You answer my prayers." "God, I'll follow You anywhere as long as You protect me."
There are also many scriptures that proclaim God's abilities and promises to deliver us from trouble. God is undoubtedly capable of protecting us. This doesn't mean that God always does protect us.
The Bible contains many stories where people felt deserted by God, unprotected, exposed to many dangers, held slaves for centuries and generally suffered. The disciples mostly met unhappy ends.
This does not make God untrustworthy. On the contrary, I think real praise and worship emerges when we can face the ugliest circumstances and proclaim God's sovereignty. Such praise and worship is a great proof of faith.
I wanted this song to challenge the notion that following God is a safe thing to do. We may be called upon to risk everything, even our lives. We may be asked to give all without knowing how it will ever benefit the Kingdom. We may suffer without understanding and pray without insight.
So here's the challenge: in the face of potential harm, without knowing whether God will protect us or not, will we still follow where He leads? If He sends us into raging storms, where the wind and the rain are out of control and the waves threaten our lives, will we go willingly?
This is not an easy or rhetorical question. God may one day require our lives of us. It is hard to imagine how we will respond, and saying 'yes' to God is sometimes harder than we realise. It may be especially difficult to trust God if our trust has been damaged or we have felt let down by God before.
Lord of the Oceans does not address all these issues but it does answer with a simple 'yes'. It declares our absolute faith in God, come what may. This is not a faith based on feeling safe but on God's supremacy in all situations. It is a song about valuing God's call more highly than our lives.
We join with Shadrach, Meshach and Abednego who, in the book of Daniel, had this to say to the King when threatened with death:
'King Nebuchadnezzar, we do not need to defend ourselves before you in this matter. If we are thrown into the blazing furnace, the God we serve is able to deliver us from it, and he will deliver us from Your Majesty's hand. But even if he does not, we want you to know, Your Majesty, that we will not serve your gods or worship the image of gold you have set up.' (Dan 3:16-18, NIV.)
Even if He does not. The essence of faith is to trust in God regardless of whether we live or die. This kind of simple courage inspired the writing of this song. (More on the sermon inspiration next time.)
This is a call to value other's lives above ours. Those of us who entrust our lives to Christ are eternally alive, but not everyone enjoys this privilege. Those of us who are really "alive" can sacrifice these temporary lives for the sake of others who are still "dead".
Eternity is at the heart of this song. Without eternal reassurance, we might be ambivalent about venturing forth. But "With our eyes fixed on our eternal home", we can go boldly wherever God takes us. He can command the oceans to carry us where He wills because He is sovereign over His creation. He is the Lord of the oceans and ruler of the waves.
Send us out we pray.