Lives on the Line – Part 1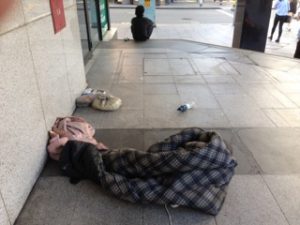 See the lyric video here: https://youtu.be/qjJ88xHpIoc
He was covered in tattoos. His face was gaunt, worn and appeared older than his age. His clothing was tatty and an odour hung about him like flies in an Australian summer. He told me stories of poverty, drug use and hunger, yet he was cheerful and a sense of humour was evident. An air of aggression hung about him, as though he carried with him a history of using force to secure whatever he wanted. Yet I did not feel unsafe around him. He seemed happy just to speak, to tell his story to a willing listener. He spoke as though no-one had taken an interest in him before, and eagerly shared his life story.
She bore the air of one living from hour to hour. She wore a short dress and boots, likely purchased from one of the clearance stores in the middle of town. She had long hair tied back and a careworn face, aged before her time. When she spoke, she revealed several missing teeth, probably a testament to long-term methadone use. She told me stories of abuse and violence, perpetrated by the man she loved. She told me of the heartache of having her kids removed by the state, and of not knowing anything of their whereabouts or wellbeing. As she left me, she described the man she was about to meet and the pity she felt for men of his age and insecurity. She described how she planned to soothe all his self-consciousness away, and what he would pay her to do so. She left me to go and meet this man on the main highway.
I met both of these individuals on the same day. It was an ordinary work day for me, made memorable by these two individuals. Their poverty and openness struck me, and I could not get their stories or their faces out of my head. So taken was I with their honesty and tragedy, I could not help but write their stories down.
The result was this song, Lives on the Line. I wanted to share their stories with you, but more than that, I wanted to challenge the sheltered lives that many of us lead. As Christians, we can become accustomed to associating only with those who are too much like ourselves. We become insular and, that most subtle of sins, safe. Reaching out to others becomes risky, especially when they are markedly different to us.
Yet it does not take much to break down these barriers between us. My act of listening was simple enough, and took little time and effort. It just required a leap of faith: a trust that God will bless whatever I give to this person, and will keep me safe in the process. Of course, "safe" does not preclude harm, but indicates that wherever I go, I am in God's firm grip and no person or power can alter that.
The exhortation of this song is that we would take simple steps of faith, open our eyes to see the need around us, and take action in meeting that need. We cannot meet all the need in the world, but we might help one person with one need at one particular point in time. Let us take our cue from Christ, who really did lay His life on the line for the sake of people in need.
May this song challenge you as much as it has challenged me.
Next time: Lives on the Line – Part 2: my day with the homeless.