My grandfather recently died and I now find myself wanting to blog about death and grief. Those of you who have been following my blogs for a while may recall that I have previously written about lamentations and joyful grief. This week I will be talking about some of the most beautiful and encouraging aspects of grief, based on personal and recent experience.
1) Some deaths are good. The death of a loved one, following a long illness or other difficult circumstance, can come as a relief. Seeing someone released from their pain can actually be a blessing, even when it is mixed with sadness.
2) Grief can bring family together. When a love one is near death or has just died, other family conflicts can seem unimportant or can become softened. When family rally together for the common purpose of celebrating the life of a loved one, petty rivalries can give way to dignity and serenity. It is a way of beautifying the departed one in treating one another with compassionate understanding.
3) God's presence. God can use such opportunities like death to come near to us and comfort us with His presence. I have recently been reminded of such Bible verses as Isaiah 61:1-3: "He has sent me to bind up the brokenhearted. . . to comfort all who mourn, and provide for those who grieve in Zion— to bestow on them a crown of beauty instead of ashes, the oil of joy instead of mourning, and a garment of praise instead of a spirit of despair." (NIV.)
4) God's provision. In the hours that follow the death of a loved one, the effects of shock and exhaustion can set in. Emotions can run high or can go numb. Sleep may prove elusive. Normalcy goes out the window as work gets cancelled and people drop everything to come to the funeral. At such times, our need for God is great. God can use these times to give us the rest we need and to remind us of our dependence on Him.
5) God's promises. God has a few things to say about death and mourning:
– "Blessed are those who mourn, for they will be comforted." (Matt 5:4, NIV.)
– "Weeping may stay for the night, but rejoicing comes in the morning." (Ps 30:5, NIV.)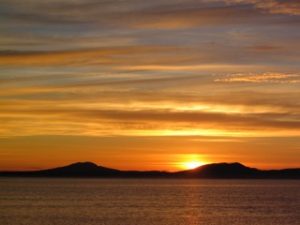 – "'He will wipe every tear from their eyes. There will be no more death or mourning or crying or pain, for the old order of things has passed away.' He who was seated on the throne said, 'I am making everything new!'" (Rev 21:4-5, NIV.)
It seems that God has a special place in His heart for those who mourn. He also appears to have a passion for restoring us, body and soul, until we are like new. These beautiful Biblical passages can be good to hold on to at such times.
While grief can bring a flood of memories and an ache for the person who is now absent from our lives, grief is also a chance for us to lean on God in a fresh way. We can allow ourselves to reach out to Him with all the innocence of a child, in silence or in earnest expression of our need for Him.
In the midst of grief we may find glimmers of hope. We may be hopeful of seeing our loved ones again. We may hope for renewed relationships with family members. And we may find ourselves hoping that we can draw near to God again, knowing how He longs to draw near to us in our time of sorrow.