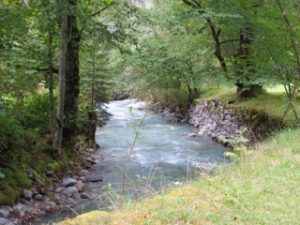 The sermon of the coracle was not the only inspiration behind this song. My writing was also influenced by an old prayer known as the Lorica by St Patrick. There are a few songs – old and new – based on this prayer, including "Christ As A Light" by Ryan Flanigan and "Christ Be All Around Me" by Michael W. Smith.
Further expanding on the prayer of the monastic Celts that the Lord would use the water to guide them to wherever God needed them, the Lorica speaks about God's presence in His creation which surrounds us. The Lorica highlights His capacity to strengthen us in the midst of our circumstances.
The themes of Lord of the Oceans are strongly connected to ideas of God's omnipresence and the notion that God is present everywhere – even in storms. God the Creator not only made the world we live in but He is present in this world as well. He is in His Creation, inasmuch as He is everywhere and everything is governed by Him.
Often God uses the things of this world – His creation – to speak to us, inspire us and guide us. He uses rain and sun, animals and plants, land and ocean as active ingredients in our everyday lives. He is not removed from us; He is intricately connected to our moment-by-moment living. This sentiment is echoed in the Lorica.
Here is an abridged version of the Lorica (the full version is widely available on the Internet):
"I arise today
Through a mighty strength, the invocation of the Trinity,
Through a belief in the Threeness,
Through confession of the Oneness
Of the Creator of creation.
"I arise today
Through the strength of Christ's birth and His baptism,
Through the strength of His crucifixion and His burial,
Through the strength of His resurrection and His ascension,
Through the strength of His descent for the judgment of doom. . .
"I arise today
Through the strength of heaven;
Light of the sun,
Splendor of fire,
Speed of lightning,
Swiftness of the wind,
Depth of the sea,
Stability of the earth,
Firmness of the rock.
"I arise today
Through God's strength to pilot me;
God's might to uphold me,
God's wisdom to guide me,
God's eye to look before me,
God's ear to hear me,
God's word to speak for me,
God's hand to guard me,
God's way to lie before me,
God's shield to protect me,
God's hosts to save me
From snares of the devil,
From temptations of vices,
From every one who desires me ill,
Afar and anear,
Alone or in a multitude. . .
"Christ with me, Christ before me, Christ behind me,
Christ in me, Christ beneath me, Christ above me,
Christ on my right, Christ on my left,
Christ when I lie down, Christ when I sit down,
Christ in the heart of every man who thinks of me,
Christ in the mouth of every man who speaks of me,
Christ in the eye that sees me,
Christ in the ear that hears me. . ."
St. Patrick (ca. 377)*
This prayer connects with me and the notion of being sent by God into the oceans. Not only is God creator of these things, He can be present in those things that surround and even terrify us.
How wonderful, how peaceful, how surrendered, when we stand in the midst of storm and tempest, to say, "Christ with me, Christ before me, Christ behind me. . ."
With such firm trust in our Creator, surely we can go where He sends us. He calls us to die to self. We go in His might, not ours. We strive not against the waves but are guided by them, and by the Lord of the Oceans.
Send us out we pray.
*Eternal word television network (EWTN) 2016, Eternal word television network inc., Irondale, Alabama, USA, viewed on 28 April 2016, https://www.ewtn.com/Devotionals/prayers/patrick.htm.