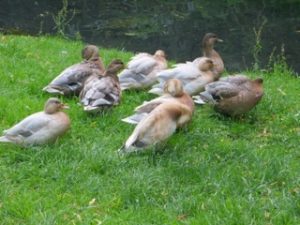 'I saw ducklings today,' said my husband.
I paused, mid-movement. 'That's nice' was my astute response. The cogs in my brain slowly began to turn. 'Wait… ducklings? We're in the middle of winter!'
'That's what I thought!' replied my husband.
Yes, ducklings are usually a feature of springtime. They come out with the other baby birds, helping nature celebrate the arrival of warmer weather. All of creation joins in the festivities. And ducks are no exception.
But sometimes there is an exception. Like ducklings appearing in the middle of winter.
Sometimes there is an exception.
Those winter ducklings had me thinking. There's a metaphor here somewhere. (I am always on the lookout for a good metaphor.) I thought about winter cliches, how everything appears dead on the outside, how trees look barren and austere, how people and animals go into hibernation.
We experience winters of the soul as well. Sometimes we get stressed or overwhelmed and cannot see the end of it. Like COVID-19. Sometimes we feel our lives are slowly grinding to a halt. Our spiritual lives can feel stagnant, like we have gone into spiritual hibernation. And God can feel distant.
Occasionally, signs of new life appear in the midst of our spiritual winter. We can be visited by ducklings. Or by a flower that refuses to die when it is supposed to, instead bringing us a delightful second bloom. Or by a butterfly that sits on our window, greeting us in the new day.
I sometimes imagine these visits are God's gifts to us.
Call me sentimental, but I sometimes imagine these visits are God's gifts to us. He uses his creation as a way of reminding us he is present. He is near. And he has not forgotten us.
These verses come to mind:
'"Forget the former things;
Do not dwell on the past.
See, I am doing a new thing!
Now it springs up; do you not perceive it?
I am making a way in the wilderness
And streams in the wasteland."' (Isaiah 43:18-19 NIV)
I can just imagine God forging a new path in the middle of a barren wasteland – a land plunged into the depths of cold winter – and causing a little trickle of water to carve its way through the dry ground. I can imagine that trickle gathering momentum and becoming a stream, bringing signs of green to the wasteland like a sigh of relief.
God has ways of surprising us with newness and freshness.
God is in the habit of breathing life into things we thought had died. God has ways of surprising us with newness in our daily grind and freshness in our stagnation. It can be hard to believe God is capable of such goodness when we are in the death throes of winter.
But even in the cruelest winters, God is at work behind the scenes, planning new friendships and healings and promises for us. I love the way God works – not always within my timeframes, that is true, but always looking to bring forth his restoration and holiness and beauty.
And ducklings.
Have you been visited by metaphorical ducklings in a time of winter? How have you seen God at work in your life, even when you thought he was absent? Share your story. Let's have a countercultural conversation.