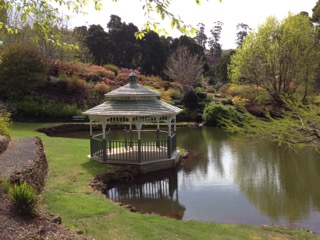 I love Jacaranda trees. When I was growing up, one of our houses had a glorious Jacaranda tree in the backyard. Its branches stretched over a large part of the lawn, and every spring our backyard became blanketed in purple.
The sight of a Jacaranda tree still gives me the warm fuzzies. Especially when in bloom.
My workplace is blessed with large windows and plenty of natural light. Across the street from my desk are two Jacaranda trees, and when I sit at my computer, I often turn to gaze dreamily out the window at the Jacarandas. It is a moment of respite for me in an otherwise busy day.
It is a moment of respite.
This week was a busy week, both at work and at home. And all week long, I felt the Spirit whispering to my soul an invitation to stillness. He nudged at my heart with this scripture:
'He leads me beside the still waters.
He restores my soul.' (Psalm 23:2b-3a NKJV)
By the time I got to Thursday, I was worn out, physically and mentally. I was ready for the weekend. (I am fortunate to work part-time, so in my world, Thursday marks the end of my working week and the beginning of my weekend. Sorry-not-sorry.)
But as tired and busy as I was, I still felt the tug in my spirit to take a moment out of time. So I turned away from my computer and stared deliberately, purposely, at my Jacaranda trees.
I felt the tug in my spirit to take a moment out of time.
The longer I stared, the more I felt my shoulders relax and my breath slow down. The churning in my mind became quieter.
I had a glimpse of serenity.
As I stared at the Jacarandas, admiring their green leafiness, I noticed one of them was actually flowering. Yes, I know it is March and technically autumn here in Australia. I can't explain it. But I saw a bunch of purple hanging from one of the Jacaranda's branches. I wondered at that.
I was transported from the stress of my day to a pool of tranquility.
And I was reminded of how important it is to deliberately stop, to pause, to breathe, and to remember our God who leads us beside still waters. It mattered to me that I stopped yesterday, just briefly, to remember his peace; even though I had lots of work to do.
Carving out five minutes in my day mattered. Somehow, the busier I get, the more it matters to deliberately pause and catch that glimpse of serenity. Stillness is countercultural, an act of resistance against the addiction of busyness.
The busier I get, the more it matters to catch that glimpse of serenity.
Serenity is hard to find when we are under pressure. That's what makes it all the more crucial.
Lord, lead us beside still waters today. Restore our souls.
Have you been able to catch a glimpse of serenity this week? What did it look like for you? Do you need to be led by still waters today? Share your story. Let's have a countercultural conversation.